Neo Access Control - Installation & Specifications

Introduction

The HAR300 Access Control is most commonly installed in common areas/gates/front doors for accommodation sites.

This unit can also be used in conjunction with the Lock-S lift control system as the ID reader.

Supporting technologies including:

RFID Cards & Fob Access

Smartphone App Access

Online Control & Management via S1 Gateway

Keypad Pin Code access.

Images

Dimensions
Height: 115mm

Width: 40mm

Depth: 25.6mm

HAR300 Display when the

Keypad is disabled

Technical Specification




HAR310


HAR311 - (Discontinued Model)


Power


12 V DC / 2A


9 V DC / 2A


Rated Current


Max. 100 mA


Max. 100 mA


Door Sensor input


Dry contact


Dry contact


Exit button input


Dry Contact


Dry Contact


Relay rated voltage


12 V DC


9 V DC


Relay rated power


0.2 W


0.2 W


Relay output


COM, NO, NC Dry contact


COM, NO, NC Dry contact


Relay contact
impedance

Max. 100 m??


Max. 100 m??


24 V DC, Can pass 2 amps current


24 V DC, Can pass 2 amps current


Relay electrical life


2 A / 24 V DC. over 100,000 times electrical life


2 A / 24 V DC. over 100,000 times electrical life


RFID


ISO 14443 A


ISO 14443 A





RFID frequency


13.56 MHz


13.56 MHz





Working Temp

-20 to 60 Degrees




Working Humidity

20% to 90%




Weather Resistant

Yes



Wiring Diagram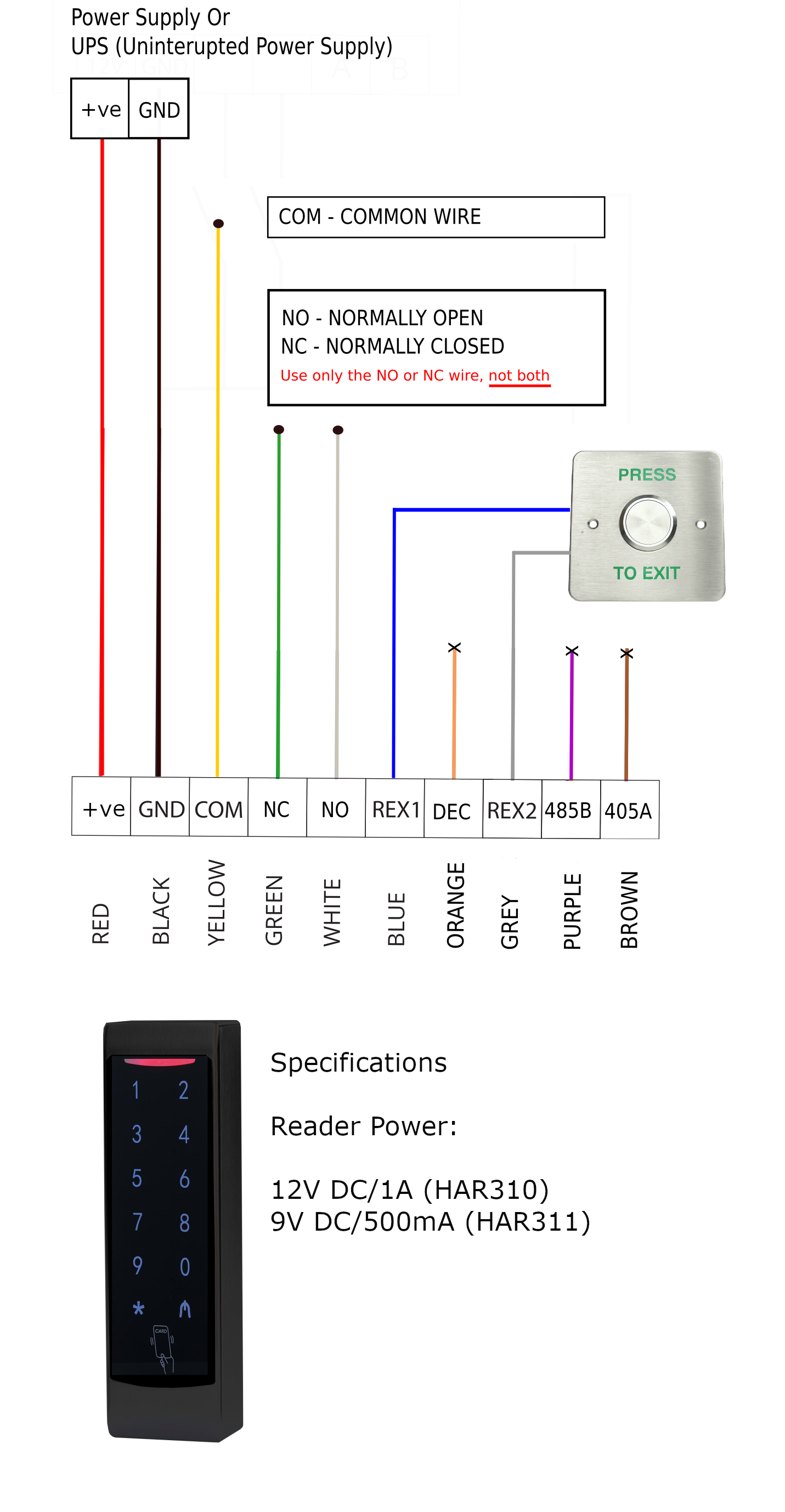 Cat-5 or Cat-6 cables is a suitable wire type for the ACR Power (Red, Black), REX switch (Grey, Blue), and NO, COM, NC wires (Yellow, White, Green) if using the relay as a dry contact or to switch a low powered electric strike (12V DC ~ 1A).

If using a high power electric strike or high-powered electromagnetic lock, wire a figure 8 cable (or equivalent) between the power supply and the electric strike or electromagnetic lock.

Max length for a Cat-5 cable between the Power Supply and ACR reader unit: 50 m

Keypad ACR is fully waterproof and is compatible to install outdoors in direct exposure of rain.

Power supply is not supplied with this product.

Gateway Connectivity

The HAR300 can receive online/internet control if a Gateway is activated in close proximity.

The Gateway and HAR300 will automatically discover and establish an online connection.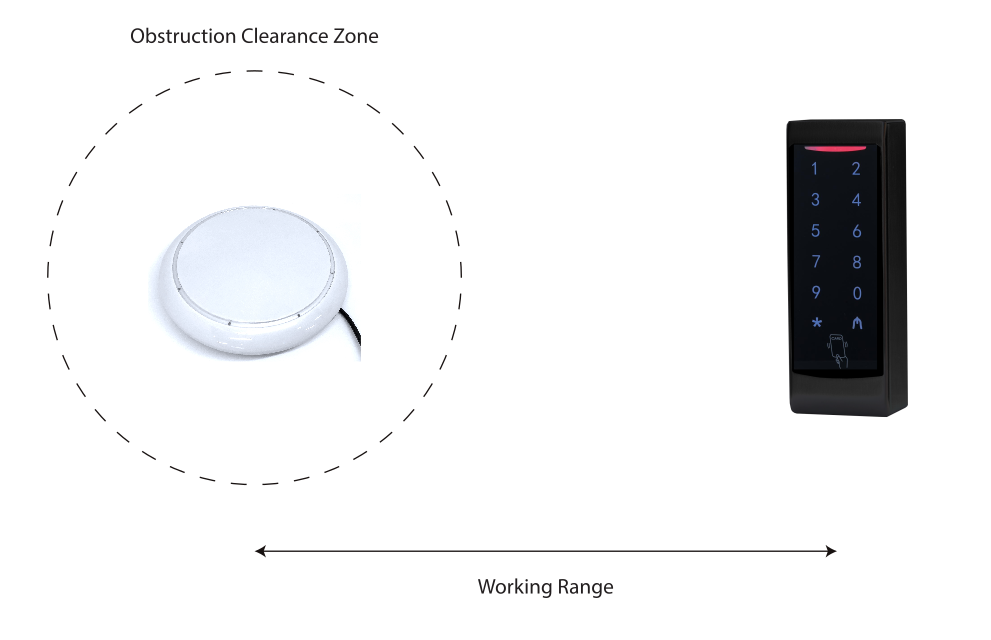 Related Articles

Neo ACR & Neo Cloud Lock - User Guide Local Management

Preface Local Management and programming are not required if you are managing access via the app or console. This user guide is for local management only (at the lock face) if you do not have a gateway. Note: Battery operated Neo Locks are not ...

LMS Access Control System - Installation Guide

To setup and program the access control reader There are 2 main components of the Access Control System (ACS) which you some become familiar with. There are also additional optional devices that comprise the ACS, a door release and the REX button. ...

Neo Cloud Lock - Specifications

Introduction The Neo is a modern lock that appeals to the modern environment. It is a feature rich and durable lock hardware perfectly suitable to any type of accommodation site. Supports the latest technologies including: RFID technology Mobile ...

LMS Access Controller System - Specifications & Wiring Diagram

Components This product contains 240V AC. Copyrights Information in this document is subject to change without further notice. No part of this document may be reproduced or transmitted in any form or by any means, electronic or mechanical, for any ...

Energy Saving Device ESD950 - Installation & Specifications

Introduction Energy Saving Devices (ESD) are located inside the room to activate room lighting, power and air conditioning (A/C) circuits. ESDs are activated by inserting the room key card into the ESD socket. KAS Energy Saving Devices have two main ...